PILOT TRAINING: COMMERCIAL PILOT LICENCE (CPL) / PRIVATE PILOT LICENCE (PPL) TRAINING & GROUND THEORY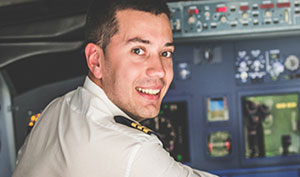 JetskEY announces its association with Carver Aviation, Baramati, as their partners in creating greater awareness and propelling the aviation training sector to greater heights, promoting Commercial flying training, Private and Hobby flying along with a host of other value added services jointly offered by Carver Aviation and JetsKEY. A matter of pride for the two organizations dedicated towards bringing the thrill and excitement of Aviation to the masses. Contact us now for the courses and services.
Please register with us for Joy Flight reservations at least 1 week in advance.
EXPERIENCE THE JOY OF FLYING – ONLY WITH JETSKEY IN ASSOCIATION WITH CARVER AVIATION.
CPL :COMMERCIAL PILOT LICENSE (CPL)
JetsKEY Aviation & Professional Training  Offers a Commercial Pilot's Licence training for those candidates who want to make their career in the Aviation as Professional Pilot. Your decision to become a professional pilot may be one of the most important decisions you ever make. Most pilots would agree that once having taken the step to learn to fly, it is a decision they never regret. ACAPL provides flight training to a level of excellence, which will give you every opportunity to fulfill your ambitions in your aviation career. On successful completion of the CPL, the pilots can apply for employment with commercial airlines (domestic or international), charter companies, corporate.
Medical: Class II Medical is to be done by a DGCA approved medical examiner. The list of DGCA approved medical examiner.

Course Duration for CPL:
12 months
Technical General (Aircraft and Engines)
RTR (Radio Telephony Restricted)
Flying Training:
200 Hours of Flying as per DGCA Syllabus
PRIVATE PILOT LICENCE (PPL) TRAINING :
Eligibility:
1) EDUCATION QUALIFICATION : 
Minimum qualification required is a class 10th certificate.
2) AGE : Minimum 17 Years and Above/No maximum age limit
3) MEDICAL : 
Class II Medical is to be done by a DGCA approved medical examiner.
COURSE DETAILS:
Duration : 4 months to 12 months (Subject to availability of trainee for flying)
GROUND THEORY : (Trainee is required to clear the following theory subjects as per DGCA regulation for PPL)
1.Composite (Air Regulations ,Air Navigation , Aviation Meteorology)
2.Technical General (Aircraft and Engines) 3.Technical Specific
FLYING:
40 Hours of Flying as per DGCA Syllabus
CONTACT/WHATSAPP OUR AVIATION CONSULTANTS  :  +91-8390798997 / +91-8698000789
EMAIL: info@jetskey.in / careers@jetskey.in 
FOR MORE INFORMATION OR TO REQUEST A QUOTE CONTACT OUR AVIATION CONSULTANT